Project Description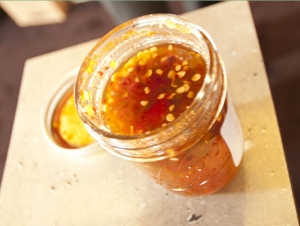 10/12/12
by Johna Wilcox
This is a busy season at Wendt, to be sure. Board meetings, client meetings, conferences and seminars keep us going in different directions for days and hundreds of miles, often for weeks on end. But we're not complaining…far from it! This frenetic pace infuses us with energy and vitality, not to mention a fabulous way to bond with colleagues when we return home with the "booty."
As eager disciples of the Constantly Curious, The Wendt Team seizes every opportunity to explore the nooks and crannies of life on the road. We scour local shops and eateries, pubs and flea markets, always with our eye on the prize. I've sampled walleye in Wolf Point, mac 'n' cheese bites (deep fried, of course) in Bigfork and an ice cold martini in the Peacock Lounge at the Davenport in Spokane. I pride myself on knowing where to find the perfect ahi or fish taco from border to border.
But a recent trip to Sula yielded a rare, glorious bounty in the form of hot jelly from the Darby Farmers' Market. Hot Mama Extreme, to be precise, is one of those finds that is too exquisite not to pick up and bring home for the crew. Made in small batches with the fear-inducing ghost pepper, one person commented that it should be renamed "Bear Spray Jelly," because of its proximity to pure capsaicin. (The ghost pepper weighs in with a mighty 1,041,427 SHU – Scoville Heat Units – while a mere jalapeño has a
measly 2,500.)
We're nothing if not adventurous at Wendt, and everyone gamely ended their day with a taste of Hot Mama Extreme. That was Wednesday. We're hitting the road again day after tomorrow. I can't wait to discover, and share, what's around the next corner.