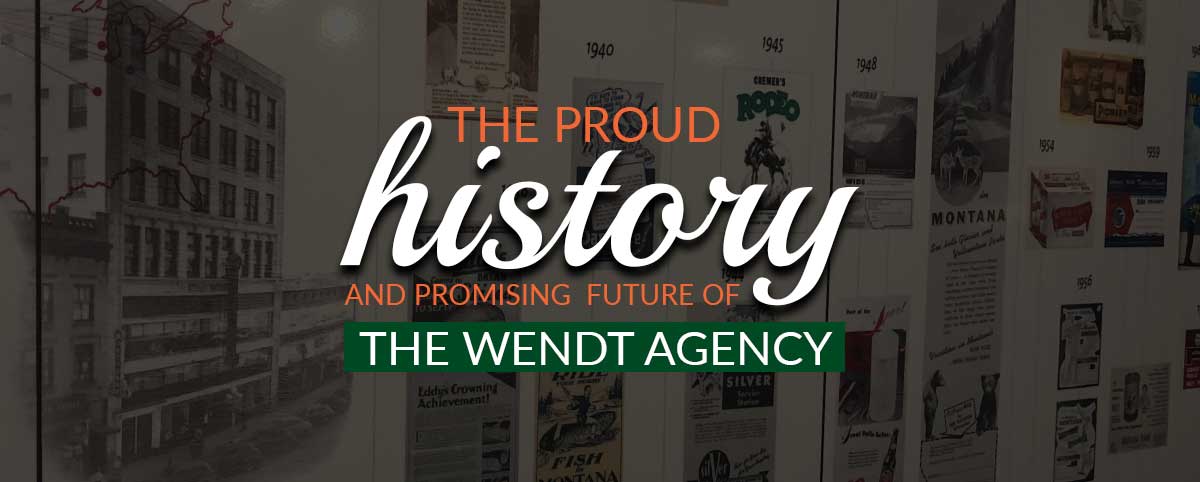 By Mackenzie George, Wendt Intern
As the longest-running advertising agency in Montana, I knew before walking in the door that The Wendt Agency had a history of excellence. But it was by spending hours and hours shadowing, writing, researching, and listening that I learned just how ingrained that history is. Meghan informed me early in the summer that strong female leadership has been a tradition at Wendt since its inception in 1929. While reviewing the agency's history, I discovered that the company's first secretary, Zelma, later became a leader of Wendt. And Tegan made special note of positive female mentorship when I spoke to her about company culture here.
At Wendt, company culture is not a buzzword — it's an emphasis. Wendt employees ensure there is a seat at the table for everyone. Jen made it a point to invite me to meetings and conference calls. "Thought this might be a good learning experience for you!" she'd write in the email reminders. Ideas are welcomed irrespective of department or experience. I felt very fortunate to be taken seriously. I was asked for feedback and introduced to clients when listening in on conference calls. I wasn't asked to fetch coffee or make copies; I was granted a seat at the table.
It was kind of them to do that, but it was also smart. Not because I had worthwhile ideas (I spent most of my first day flipping furiously through Wendt's welcome brochure trying to memorize advertising acronyms), but because it's a continuation of what makes Wendt, Wendt. Inclusion is part of their MO. Kara said it eloquently: "Take people with very different personalities and ideas and interests and quirks and challenges, and put us all together, and we're all focused on this thing called Wendt and making it successful … and we care about it enough that we embrace each other, embrace all those differences, and that's what makes it stronger." By using differences as a place for growth rather than division, this team has thrived. It's a system that's worked for 90 years, and it's a lesson that other organizations – and not just ad agencies! – should learn from. The creativity flows because everyone contributes to the process.
This tight-knit community means collaboration crosses department lines, but each person still has a well-defined specialization. There is no room for superfluity at Wendt; everyone works energetically each day to accomplish all their tasks. While each person has a specific area of expertise, they all also possess a foundational skill set including a strong work ethic, creativity, and adaptability. As in many fields, success in advertising hinges on whether you can embrace change. It's an ever-evolving industry, and in response, every one of the 13 people who make up Wendt utilize their versatility in every venture.
As the latest, youngest, and temporary addition to the 13, I was pleasantly surprised to have an office to myself. (Aren't interns supposed to reside in some corner somewhere, like Harry Potter's cupboard under the stairs?) There was a sign with my name on it and a Wendt tumbler waiting for me on my first day. I learned a lot in that office: about click-through rates, tracking campaigns, writing copy, engagement, organic versus sponsored media, and search engine optimization. And Wendt's legendary email chains. Someone will send a link to an article, a photo, or an ad, and everyone will respond enthusiastically. Here, employees are excited about their work, and excited about each other. Birthdays, babies, and other milestones do not go uncelebrated. Employees' dogs, who sometimes meander through offices, do not go unpetted. I can't imagine that the supportive environment doesn't contribute to Wendt's commercial success.
I owe a big thank you to everyone for granting me access to their offices to get a glimpse of who they are and what they do. I learned about juggling a job and a family. There were moments of pure joy incessantly squishing Tiffany's spongy ice cream cone toy. I found renewed motivation to get a good job so I can start building a shoe collection like Johna's. I was reassured by encouragement from Brenda. These individuals solidified my decision to add a business management concentration to my college plans when I start my sophomore year this fall. And they helped reaffirm a hardy appreciation for my home state of Montana. The current of creativity that crackles through Wendt is inspiring and refreshing, and I look forward to returning to New York having had this engaging experience.
BY MACKENZIE GEORGE, INTERN